New Zealand's most awarded branding agency in the healthcare sector
We believe your brand is your greatest business asset.
Hello, we are Re:brand – an internationally award-winning brand agency who have been helping healthcare companies build brand value since 1999. We understanding the nuances of the industry; the complex Board structures, different patient referral pathways, patient care and treatment journeys.
The traditional approach to branding is no longer relevant. We use an evidence-led process that focuses on thorough research, strategic insights expressed through design to produce stunningly simple solutions to complex business problems.
We understand the problems you might be facing:
Have your services/products expanded but your brand positioning & story hasn't?

Are you being left behind by your competitors?

Are you looking old and dated?

Are your customers confused about who you are and what you do?

Are your staff confused about the business and brand?

 

Is your brand and name no longer relevant to your industry?

Does the organisation lack alignment about how to move forward?
We have a proven methodology to help businesses identify and resolve all of these brand issues, and more!
Brand is business process and we want to deliver an ROI.
We want to change the conversation. We're sick of design agencies delivering a brand that is a logo and nice looking website. Where's the business-wide value? We want businesses to understand the value that their brand has.  When done properly, as a business process, it helps align staff, give internal clarity that generates pride and consumers who understand what your brand does. And they love you for it. In return they spend their money with you and increase your business value. It's win-win. 

Brand Research
Brand assessments / Brand Audit
Competitive analysis
Market mapping

 

Staff engagement & perceptions
Customer depth interviews & perceptions
Mass market research (local/international)
Brand Strategy
Brand positioning
Brand architecture
Brand statements
Brand personality
Brand Blueprint™
Brand naming strategy and ideation
What, How, Why – distillation of the brand

 
Brand Design
Brand design to creatively express the strategy from the Brand Blueprint™. The Visual Identity or Brand Identity
This covers logos, colours, fonts/typography, imagery, graphic devices, treatments.
Brand Rollout
Website and digital assets
Corporate collateral
Business Cards, Letterhead
Presentation templates
Document templates
Signage – office / retail / vehicles
Uniforms
Conference materials
We like to challenge ourselves to produce work that is internationally best practise – therefore we only measure ourselves against the best across Asia Pacific. And when you're competing against huge multi-nationals with hundreds of staff it's a big challenge! 
But over the past few years we've managed to beat the 'big boys'  and win a number of international branding awards for our clients. These Golds mean it is literally the very best from all of Asia Pacific. 
2018

GOLD – TRANSFORM branding awards (Asia Pacific) Intra – Best rebrand in the Healthcare sector

 

2018

SILVER – TRANSFORM branding awards (Asia Pacific) Mercy Hospice – Best rebrand in the Not-for-profit sector

 

2018

SILVER – TRANSFORM branding awards (Asia Pacific)
Mercy Hospice – Best internal communication during a rebrand process

 

2018

HIGHLY COMMENDED – TRANSFORM branding awards (Asia Pacific) Intra – Best re-naming strategy for a brand project

 

2016

SILVER – TRANSFORM branding awards (Asia Pacific) Hobson Leavy – Best rebrand in the professional services sector

 

2015

GOLD – TRANSFORM branding awards (Asia Pacific) Proactive – Best rebrand in the healthcare sector

 

2015

SILVER – TRANSFORM branding awards (Asia Pacific) Proactive – Best rebrand related to change in mission, values or positioning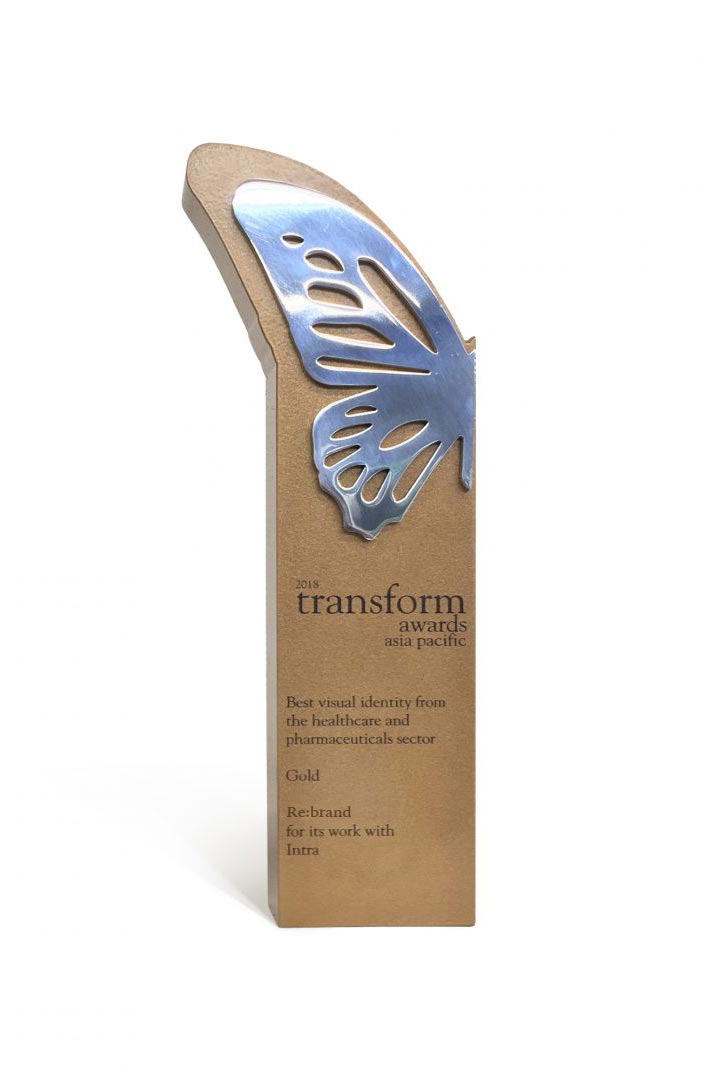 Recent healthcare brand projects
Brand Assessments | Stakeholder engagement/interviews | Brand strategy | Brand Architecture | Māori design advisory & design | Website design & build Re:brand has partnered with Hospice New Z...

Branding and design of the Cancer Society's retail brands for NZ and export markets, across multiple ranges over 15 years
Check out some of our videos related to brand issues
Tim Dove - Strategic Director
Tim heads up the Strategy for our clients. He's lead the recent award-winning brand development projects for Mercy Hospice, Intra, Proactive and Hobson Leavy. These took out multiple Gold and Silver awards at the prestigious Transform Branding Awards Asia Pacific. 
Tim has 18 years of design and branding under his belt and has setup and runs the Auckland office of Re:brand. This is his second time with Re:brand after spending 3 years in London working in leading brand agencies.  
Tim's passion for brand is what drives him. He loves getting in-depth with his clients to truly understand their business, strategise its positioning and then bringing the brand to life through all the forms of communication, online and off. At Re:brand he also manages key client projects. 
Getting that eureka moment of a brand's true essence is what motivates him. 
Adam Errington (Ngāti Raukawa) – Creative Director
Adam is a founding director of Re:brand and has been creative lead on all client projects such as Mercy Hospice, Intra, Proactive, Hobson Leavy, Immigration NZ, AMP, Te Puni Kōkiri, Māori Tourism to name a few. 
Adam has 25 years of design and branding experience. He has completed thousands of illustration commissions and design projects in NZ and the UK. He became an associate partner of London design agency Hyper for three years including visualising work for Grey Advertising and St Lukes Advertising. 
Adam has achieved gold in the NZ Best Design Awards. His notable branding work includes Ngāti Rangi, Māori Tourism, Immigration NZ, Te Manawa, AMP NZ, Coruba Rum, Qual IT, Airlab, Proactive, Litmus Research, Wheeler Campbell and Hospitality Standards Institute. Adam also does illustration commissions. 
Frans Huysmans - Business Development Manager
Frans has 30 years experience in design, creative direction, brand strategy and business development, understanding how brands are positioned in markets and helping with engagement strategies to grow businesses. With a degree in Visual Communications Frans has worked with SME's to Major Corporates, understanding the market forces and drivers affecting revenue and performance.
Getting involved with how a business communicates and connects with its audience is a passion for Frans, especially watching brands grow as a result of his work.
As an aside Frans is an accomplished and exhibiting artists as well as a Jazz musician with Album releases under his belt. He's also an avid golfer and enjoys nothing more than taking clients out for a knock – you learn a lot; the good, the bad and the hilarious.
Do you have a healthcare brand issue that you'd like to discuss?
We're more than happy to meet for a coffee and chat about what problems you might be facing and a process to help resolve them.